It is hard to believe that Thanksgiving is just around the corner and closely following is Christmas! What a wonderful way to start your Christmas shopping adventure with a $25 from paypal and ad space to promote your blog. Join in the Climb and don't forget to sign up and win!
___________________________________________
Tweet #ChainLinkyCLIMB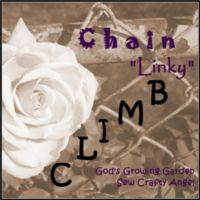 WELCOME!
It's the month long Networking Blog Hop
Networking means helping each other grow!!
If you want to promote a CLIMB link, then use #ChainLinkyCLIMB on Twitter or Google+ so that we can all help each other grow!
Here's how the Giveaway & Co-hosting works - the co-hosts from the previous month's CLIMB will have the opportunity to participate in a Giveaway during the next CLIMB - that gives co-hosts 2 months in a row of blog growing fun!! (If you would like to co-host please sign up at the end of this post using the last "Linky")
________________________________________________
My pick for the Highest Climber is:
Dreaming of Leaving and their post on
Holiday Cookie Swap Ideas
Each permanent host & cohost will feature their favorite link from the previous month CLIMB! Every "Highest CLIMBer" will be pinned to our Pinterest board:
Chain Linky CLIMB Pinterest board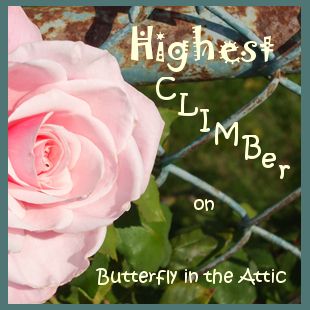 My Highest CLIMBer from October 2015 is:
________________________________________________
Also, our CLIMB GIVEAWAY!
Please enter below -one person will win:
- $25 Paypal cash from Sew Crafty Angel
,
Cuddlebug Cuties
&
God's Growing Garden
- Ad Space on
A Peek Into My Paradise
- $30 value
- Your choice of 2 month small Ad spaces OR 1 month large Spotlighting Ad Space on
Butterfly in the Attic
- $30 value
- 1 Monthly Ad Space on God's Growing Garden - $15 value
- 3 ebooks by Angie Ouellette-Tower ($10 value):
Total prize value is $110!!
CLIMB Giveaway Rules & Conditions:
- this is open worldwide (void where prohibited)
- You MUST have a blog to win the Ad spaces (
otherwise these will become second place prizes)
- You MUST have a valid PayPal account to win the Paypal Cash (
otherwise this will become a second place prize)
- This Giveaway is open from October 31st, 2015 until November 29th, 2015
- Winner must respond to email within 48 hours or a different winner will be chosen
- Giveaway Hosts & Co-hosts can NOT enter this Giveaway!, however - NOVEMBER 2015 CLIMB blog hop co-hosts ARE allowed to enter this Giveaway (provided they are not also part of the Giveaway)
- correspondence is done through email and the winner's email addresses will only be used to deliver or set-up e-prizes. Email addresses will NEVER be sold or shared.
- All prizes will be delivered by the contributing Bloggers/Shop Owners.
- if you have any questions or concerns about this Giveaway please email one of the hosts:
a Rafflecopter giveaway
Now onto the CLIMB (blog hop):
We have changed it up a bit - instead of linking your homepage you may now link 4 or 5 of your family friendly blog posts per month!!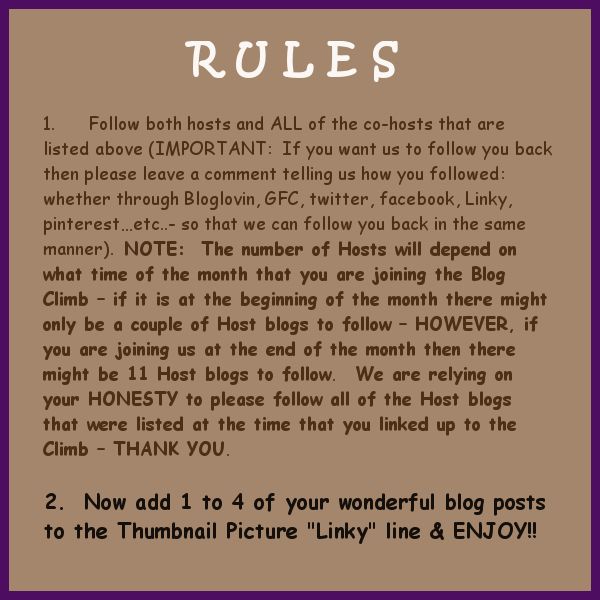 By participating in this blog hop your understand that your link might be featured &/or promoted on our blogs & social media. Also, by participating in this blog hop your email address will be added to our CLIMB list & you will be sent an email reminder next month.

Remember - If you co-host you will receive a free Weekly Sidebar Ad and your blog button will appear on both Angie's blog & Angel's blog!!
(The Ad will run live a few weeks after you have co-hosted)
We are looking for amazing Bloggers like you to cohost the CLIMB! (We are scheduling for the end of November & all of December 2015) - please click the purple button below to sign up to cohost or click
HERE
!

_________________________________________