Christmas Countdown
Having a melancholy weekend. It started with getting out my fall decorations and the next thing I knew I was daydreaming of the celebrations past. I love the fall weather in the desert. It starts to cool down into the double digits and we're able to spend more time in the mornings and evenings outside.
The constant whir of the air-conditioners are becoming silent for longer and soon will not be heard from until next spring. While our temperatures are quite different than those in the Midwest, Fall is in the air and I can feel the excitement of the upcoming holidays. A trip to Hobby Lobby and it is quite obvious they are just around the corner.
Since I am in the mood for a little spicy cinnamon, pumpkin and the oaky scent of falling leaves I am picking my favorites in fall colors :) I hope you enjoy my picks from Julie and Blu's Countdown to Christmas.
sewamazin
Maple Leaves Autumn Dog Bandana, Collar Slipcover or Scrunchie style
Colorful maple leaves are a sure sign of Fall! Perfect for Thanksgiving and harvest celebrations, small maple leaves in warm, spicy shades of red, maroon, purple, and gold on a dark chocolate background are the theme of this bandana.
Order as either a Scrunchie Bandana with an elastic neck or as a Collar Slipcover-style bandana.
Handmade of pre-washed, 100% cotton quilting fabric - machine wash and tumble dry
All seams are neatly finished with no raw edges showing
Design placement will vary on each bandana
CraftingMemories1
This gorgeous Cranberry Quartz and Swarovski Pearl Bracelet
was created using 8mm cranberry quartz, 6mm Swarovski pearls, 4mm silver plated round beads and 13mm sterling silver twisted toggle clasp. This bracelet is approx. 8 inches long including clasp.
Crimp beads secure the silver beading wire to each end of the toggle clasp; then sterling silver crimp bead covers put over them.
This bracelet will be a great accessory for Christmas, Valentine's Day or just as an everyday piece of jewelry.
shadowdogdesigns
If you ever have had a loving, caring relationship with a magnificent horse - or wish you had - you will absolutely adore the timeless beauty of the SPIRIT HORSE
handmade necklace. The artisan created ceramic focal features a regal, arched neck horse head with a raised, 3-D effect. It has a rustic, totem feel with its custom mixed, non-toxic rust brown glaze in a matte finish and ancient spiral design found at the bottom of the pendant. The 3-D effect was given an added punch since the more of the glaze settled more into the recessed areas of the horse head design than the raised areas. The back of the pendant is unglazed and slightly concave. The horse head pendant is connected to the main body of the necklace with a handmade sterling silver beaded bail...
Artisan spirit horse ceramic pendant: app. 60 mm x 40 mm (at widest) x 5 mm
Faceted magnesite rondelles: : app. 12 mm x 8 mm
Picture jasper rondelles: app 8 mm x 5 mm
Metal: sterling silver
Clasp: sterling silver toggle clasp set
Length: app. 18.75" / 47.6 cm
Pendant drop: app. 2.75" / 7.0 cm, including the handmade beaded bail
Throw Blanket with Fringe Crocheted Multicolored Afghan with Sparkles in Yarn Green Brown Orange Peach Rust Home Decor Couch Throw Afghan
Throw Blanket with Fringe
Hand Crocheted Multicoloured Afghan with Sparkles in the yarn
Square colours are light green, green, brown, orange, peach, rust.
Size without fringe is approximately 55 x 43 inches (140 x 110 cm)
Yarn is vintage "Velourette Sparkle made in France exclusively for Reynolds Yarns Inc. of Hauppauge NY. The orange in particular resembles velour fabric. It gives the throw / afghan a soft feel with the sparkle throughout. Yarn label indicates 98% viscose and 2% lurex. A yarn label will be included with the afghan.
BlondePeachJewelry
Silver Dangle Earrings, Red Earrings for Women, Clip on Earrings, Dragonfly Earrings, Swarovski Crystal Jewelry, Handcrafted Jewelry
These silver dangle earrings will be comfortable to wear because of the padding on the clip backs. The clips have a dimpled texture and a non-tarnish finish. Beautiful red and gray Czech glass beads have a dragonfly impression in them. I have topped them with gray Swarovski crystals that sparkle in the light. These earrings are 2 inches long.
Materials I used in the earrings:
Czech glass beads - 17 mm, red and gray, dragonfly impression
Swarovski crystal beads - 6 mm, gray
Silver plate clip backs - 12 x 20 mm, dimpled texture, non-tarnish finish
Silver plate head pins
Sterling silver petite round beads
These earrings are handmade by me, Sharon, of Blonde Peach Jewelry. They will arrive in an attractive organza bag that is great for storage or gift giving.
Feel free to contact me with any questions you may have regarding the earrings. Thank you for browsing through my shop of handcrafted jewelry. Check back often to see frequently added listings
TheSingingBeader
Antiqued Copper and Brass Bronze Wire Wrapped Double Hoop Earrings
These double hoop earrings are handmade with an interesting combination of antiqued brass, bronze, and antiqued copper plating. The larger hoop is antiqued copper plated with antiqued brass wire wrapping, and the smaller bronze hoop is wire wrapped in rust brown plated wire. Earring hooks are antiqued brass. Created by The Singing Beader.
If you love both antiqued copper and brass jewelry, you will adore wearing these eye-catching earrings.
Earrings dangle: 2 1/4" (5.7cm)
Large Hoops: 30mm
Small Hoops: 15mm
Duck Hunter And Hunting Dog Desk Clock Handmade From Cherry Wood By KevsKrafts
Item details
5 out of 5 stars. (115) reviews
Shipping & Policies
If you or someone you know is a duck hunter then this is the perfect gift to get for yourself or the special duck hunting friend.
This duck hunting desk clock features a scene of a hunter and his hunting dog with some cattails. All of this was cut by hand ( handmade ) using a scroll saw from cherry wood. A handmade non toxic all natural beeswax and mineral oil mixture finish was applied to bring out the natural beauty of the wood as well and protecting this natural beauty for many years of enjoyment...
Covergirlbeads
Covergirlbeads
Red Flint Handmade Lampwork Glass Beads Silver Jewelry Supplies
Red flint handmade lampwork beads wrapped with .999 fine silver witha shiny glass bead finish.
These beautiful red handmade glass beads were made using a gorgeous red colored glass called red flint. I have wrapped them in .999 fine silver adding beauty and elegance to this romantic bead. The silver wrapping can vary from a single wrap to several wraps. I got a little carried away with these two beads I made for the photo but all are equally as beautiful. As I make more or you look as other silver wrapped beads, you can see that all wraps turn out different. Red beads are especially thought of around holidays such as Valentines and the Christmas season but they can be worn throughout the year with most any wardrobe you have. The .999 fine silver wrapping around these elegant beads are gorgeous! They have a shiny glass bead finish.
Sold individually by the bead...
Quantity: 1 bead
Size: approximately 10-11mm x 7-8mm
Mandrel size: 1/16
Hole size approximately 2mm
Green, Tan, Orange Handmade Basket - Home Decor Accent
Hand-Crocheted and Woven Yarns in the Fall Colors of Greens, Tans and Orange in a Wavy Design for this Functional Basket.
100% Double Thick "Chunky" Cotton Washable Yarns
Look at all the Photos for the details - the edge of the Basket is tightly crochet in the Rounded Crab Stitch, which makes a sturdy finished edge...
Measurements:
10 Inch Wide Opening at the Top
8 Inches Wide at the Bottom
Inside Height of Basket is 3 1/2 Inches
Outside Height of Basket is 4 1/4 Inches
ResetarGlassArt
Candy Corn Fused Glass Bobby Pin, Halloween or Thanksgiving Hairpin
Yummy! A fun fused glass hairpin for fall or halloween - this candy corn bobby pin looks good enough to eat. Made by fusing glass in yellow, orange and white and then using a grinder to make the shape.
The glass portion of this bobby pin measures approximately 3/4" x 1/2" and the total length is approximately 2 1/8".
It is in stock and available for immediate shipment. And - if you purchase more than 1 bobby pin, additional items will ship for free!
I personally handmade all of the items you see in my shop and am located just outside of Atlanta in Roswell, Georgia USA.
ButterflyInTheAttic
Brilliant Candy Apple Red Sugar Maple Leaves Autumn Scene in California Fall Leaves Natural Photograph Wall Art Home Deco Fire Red
Photograph titled "Autumn Sugar 1" Is a closeup of beautiful brilliant candy apple red sugar maple leaves. Nothing is more beautiful than the valley in autumn the brilliant reds and fire oranges paint the landscape. Perfect for your fall home decor. This listing up to 16 x 24 inches (also offered in additional sizes up to 30 x 40 inches as a custom order) if you are looking for larger sizes or different cropping please email me.
Photograph taken in Fresno California...
WyvernDesignsHome
Pumpkin Coasters, Decorative Crocheted Coasters, Handmade Pumpkin Coasters, Set of Four Pumpkin Coasters, Orange and Green Pumpkin Coasters
Perfect for the coming Fall, these pumpkin coasters are both whimsical and functional. Place them around your house as a Halloween or even Thanksgiving decoration and you can also use them to protect your furniture from both hot and cold drinks.
They are hand crocheted from 100% cotton yarn and are both absorbent and soft. If they get dirty you can throw them in your washing machine and dryer.
These pumpkin coasters are approximately 4.5 inches across and sport a jaunty green leaf and stem.
PrettyGonzo
Carnelian Gemstone Bracelet Earrings, Boho Beaded Bracelet, Orange Red Bracelet, Gold Tone Crystal Bracelet, Czech Glass Bohemian Jewelry
This handmade gemstone bracelet features carnelian beads, sparkly crystals, and a central focal bead of brown-toned Czech Picasso glass. The design on the central bead is a starburst (or sunburst) and reminds me of an ancient etching. Czech glass beads such as this are made by hand, and no two are exactly alike. Typically, they are also rustic-looking and almost always interesting.
The carnelian beads (8mm, rounds) are richly hued, with a beautiful orange-red color. Their companions are pretty Swarovski "Metallic Sunshine" bicone crystals (6mm, 4mm, made in Austria) and small light yellow mookaite jasper rounds (4mm). The bracelet also includes TierraCast (made in the USA) gold-plated daisy spacers and jump rings; gold-plated rondelle spacers; 14K gold-filled twist crimps and wire guards; a TierraCast 22K gold-plated star charm; an inch-long gold-tone extender chain, and high-quality 49-strand beading wire (made in the USA)...
lindab142
Red Round Gemstone Earrings, Red, Gemstone, Root Chakra
Red Round Gemstone Earrings are lovely for women who love crimson red. Red is a power color and relates to the root chakra. Also, red is the color of love.
These handmade red round earrings match this red charm bracelet https://www.etsy.com/listing/238998215/red-charm-bracelet-love?ref=listings_manager_grid
Why give your woman flowers or candy when you can give a handmade wearable gift?
Red flat gemstones
Red round beads
Red Czech crystals
silver plated findings
Collectible Thimbles, Handmade Thimbles, Thimble Collection, Flower Thimble, Cardinal Thimble
If you or a friend of yours collect thimbles, these collectible thimbles make the greatest gifts. There is a whole garden of flowers with redbirds perched among them on this handmade thimble. Great Mother's Day gift for someone you know who loves cardinals!
Hurry, I only make them one at a time, and when they are gone, they are gone. Buy this thimble now.
Style: Thimble
Color: Red, orange, yellow
Size: 1-inch tall
Materials: Polymer, china
Stock: CT-16
Blue Morning Expressions
Flower Garden and Cardinal on a Navy Blue Porcelain Thimble, Flower Thimble
The thimble is on a base of china, which means that they are strong and durable, and it will look wonderful in your thimble collection...
Postcards In The Attic
Popping Party Ring w/ gold & white Confetti Clear Resin Handmade Statement Ring
A beautiful large upcycled statement ring. Handmade from salvaged vintage jewelry. Festive gold and white Confetti great patina on the surrounding metal. Perfect for dress and casual. Adjustable Antiqued Brass tone band to fit most finger sizes.
KatsAllThat
Red Bend Jasper Cream Riverstone Czech Beige Crystal Gemstone Necklace
Autumn inspired large red bend jasper free-form pendant is the focal in this handmade gemstone necklace. The necklace itself consists of red bend jasper rounds, cream colored riverstone and Czech beige Picasso luster fire-polished crystals which I have named "Rustic Autumn Embrace".
I was first inspired when I found this large free-form pendant with it's deep terracotta red with it's slashes of cream and gray matrix. The most unique feature that caught my eye is the quartz vein running throughout the middle. I have attached the pendant to the necklace with a gold-plated leaf pinch bail. Jasper is an opaque chalcedony and red is one of its most common colors. The red jasper stones are from South Africa have a terracotta red color that also contain a white to transparent quartz vein. Please view the close-up photos to see the beauty of these stones...
TreasuresofJewels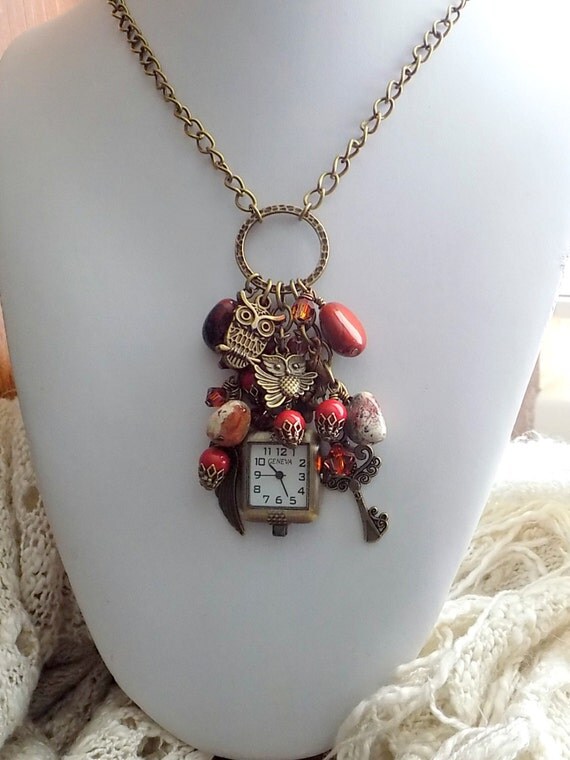 TreasuresofJewels
Steampunk Clock Necklace Owl Necklace Charm Red Jasper Cluster Long Necklace Victorian Style Jewelry
Are you looking for an unique necklace, look no further.
What a gorgeous owl necklace perfect for the Fall. The Red Jasper stones gives this necklace a very warm and Fall like feel. Fall is upon us. I love how the reds and bronzes explode in color...great combination.
The charms are attached to an Antique plated Terra Cast ring, which is lead free. The chain is antique bronze plated and is lead free and nickel free.
This gorgeous shades of red watch necklace is loaded with different charms and a working antique bronze plated square watch face.
***I will include an extra battery for later use***
The charm cluster is 3 1/2 inches long.....You get to choose the length of your chain.
PostcardsInTheAttic Digitals
PostcardsInTheAttic Digitals
A wonderful broad collection of printable digital paper, postcards, tags and more.
*ALL DIGITAL COLLAGES, PAPERS, CARDS AND DESIGNS ARE CREATED AND DESIGNED BY ME*
*ALL DIGITAL VINTAGE POSTCARDS ARE RESTORED AND EDITED BY ME*
*FUN USES FOR MY IMAGES*
*Dominoes *Greeting Cards *Bottle caps *Scrapbooking *Gift Tags *Burlap *T-shirts *Pillows *Stationery *Cards *Notepads *Altered Art *Tea Towels *Scrabble Tiles *Pendants *Magnets *Invitations *Place cards at Wedding Tables *Button machines