My grandmother's flowering Christmas Cactus was the talk of the town. She is the only person I know of that could get their plant to bloom right at the start of the holiday season every year. It was a long dark trek to her house but when we finally arrived at the door we were greeted with warmth, smells of Swedish and Norwegian pastries and a heaven sent display of colors. Brightness and joy filled the air and I would happily shed my layers and settle in.
There really isn't a history or story of pagan or Christian origins for this wonderful plant, but it is present in all my holiday memories. Whenever I think of the Christmas Cactus it is associated with the sweet memories of my grandmother. Christmas traditions don't always have to have roots that go back 100's of years they just need to mean something to you.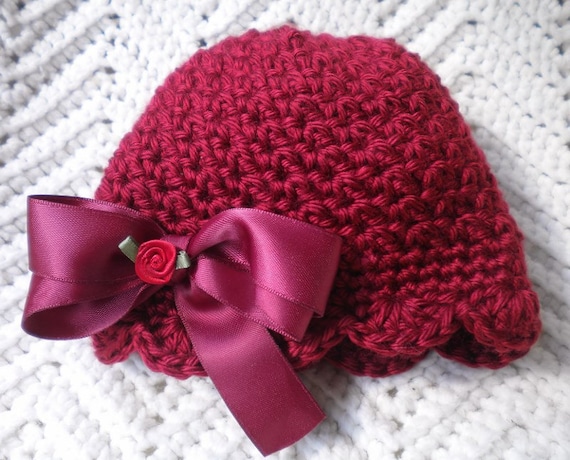 Crocheted Newborn Hat Baby Girl Beanie Autumn Red Scalloped Edging w Satin Bow found on
Magdalene Knits
This adorable "Baby Girl" 3 - 6 mo Beanie (hat) was Crocheted using Caron's Simply Soft Yarn in Autumn Red. The Crocheted Baby Girl Hat was finished off using a Scalloped Edging around the rim. The Hat is accented with a Maroon Satin Bow with a tiny Red Satin Rose attached. The Yarn is 100% Acrylic.
**This hat can also be Custom Ordered in sizes of Newborn, 9 - 12 mo., 18 - 24 mo, or Toddler Sizes. The Hat can also be made in a color of your choice.
Dianes Dangles
Fuchsia a pink/purple bright color, Cha-Cha sterling silver beaded ring with a combination of bicone and round faceted Swarovski crystals. Swarovski crystals are the most sparkly and high quality crystals on the market. Each crystal has been wire wrapped with sterling beaded head pins and connected to small loops within the ring. The sterling metal complements and provides a lovely accent for the blue crystals. This ring has a total of approximately 38 to 40 crystals.
Postcards In The Attic
Type: Divided back
Size: Standard Vintage 3 1/2 x 5 1/2
Publisher unknown
Printer: Printed in Germany
Artist: unknown
Series: 2303
Print Year: 1912 based on Postage
Postage: 1 Cent Franklin
Cancellation: Jan 3 1912 MO
KillStrike: Bars
Special Features: heavily embossed/Airbrushed
Place/Subject/Quote: From Front: "Many happy returns of the day"
Pink Breast Cancer Earrings Found on
Linda B 142
Pink Breast Cancer Earrings are fun and neon pink so they'll be noticeable on your ears. The pink frames are retro and fun.
Fight breast cancer with these pink breast cancer earrings. A portion of proceeds will be donated to the American Cancer Society.
I'm a new breast cancer survivor; breast cancer is something we must fight together.
Marcia McKinzie Art
This is a giclee print produced on acid free paper using archival inks.
Unframed and unmatted. There is a 1 inch white border surrounding the print, allowing for easy framing. The work can be framed with the deckled edges hidden or in a floater frame emphasizing the deckled edges.
TITLE: SPRING AWAKENING
Blonde Peach Jewelry
These pretty Swarovski crystal earrings have pink Lucite flowers and will be a welcome addition to your jewelry collection. The pink earrings for women have scalloped brass bead caps and brass lever-back ear wires. The flower earrings are approximately 1 inch long. The short earrings would make a great gift for her!
Crafting Memories
This pretty, feminine pink and black beaded bracelet is approx. 7.5 inches long including handmade toggle clasp.
I used 11/0 metallic seed beads, 6/0 seed beads and #2 straight bugle beads for this bracelet. Stitched one bead at a time this bracelet is an embellished right angle weave. I used a beaded bead and a circle of beads for the toggle clasp.
This handmade pink and black beaded bracelet will dress up a tee shirt or look great with a sweater; give as a gift or keep it for yourself.
Photography by Colleen Cornelius
"Flight of Princess Bumble Bee" Having grandchildren helps me see things through a child's eye. I love thinking about how the fun digital enhancements would look in their rooms. This one is dedicated to my little Princess Faith.
Original photograph take in Palm Desert California
The Singing Beader
This necklace is fully beaded with dark pink, known as Indian Pink, Swarovski faceted crystals. Between each of the forty, 8mm faceted crystals are 4mm round sterling silver spacer beads. Necklace is beaded with top rated 49 strands beading wire. Finished with sterling silver findings, including the toggle clasp.
Kats All That
These fashion forward rose gold maple leaf dangle earrings are constructed around Czech glass beads produced by one of the most respected crystal manufacturers in the world. I have named these "Adela's Promise". The Czech republic are masters in their creations of unique glass beads. These earrings are artfully constructed using two handmade links. For the first link I selected gorgeous Czech rose Picasso square glass beads which I stopped with antique gold hematite smooth heishi beads. The Czech glass bead is made of a rose satin glass which has been washed with a light brown finish. The bead is then polished to strategically remove parts of the brown finish allowing the rose color...
Shadow Dog Designs
"What fun!" can be used to describe the WHIRLING handmade earrings as they encapsulate the uniqueness of a boho jewelry design. The one of a kind earrings feature artisan made lampwork glass whirlygig beads in raspberry pink and green, pink Czech glass nuggets and sterling silver. The lampwork glass beads are hard to explain. Their shape is a domed disc, thicker in the middle than on the edges. The very center of the beads are a lovely medium green color, called crocodile green. Swirling around the center are two layers of striped, raspberry pink glass with bits of lavender showing through...
Adore by Nat
Do you have a little ballerina in your life? The one who loves ballet so much, wear her tutu to twirl and dance? Here is a set of fun pink Ballerina Thank You Stickers for little girl's birthday party celebration. These stickers are perfect to adorn your party favors. They will also be the perfect finishing touch for sealing your envelope (great envelope seals for thank you cards). There is no need to choose which image you want to get as you will get all these 3 (three) different designs. That's right! You will get a variety stickers in each set. The phrase on top says, "Thank you for twirling by my party!"...
Gunilla Wachtel
Gorgeous keychain featuring miniature art prints created from my original artwork. Perfect to organize your keys and make great gifts for any horse lover. The keyring features the image on both sides encased in clear acrylic. This high quality, acrylic key chain has 2 print inserts (archival quality inks on premium glossy paper). Print is on both sides of keychains. Copyright text is on the print as you can see in the pictures. Outside measurements are approximately 43 mm x 65.5 mm.
Blue Morning Expressions
If you or a friend of yours collect thimbles, these collectible thimbles make the greatest gifts.
Style: Thimble
Color: Pink
Size: 1-inch tall
Materials: China
Stock: CT-32
Blue Morning Expressions
Collectible Thimble with Hummingbird on China Thimble
Lovely little hummingbird flitting about on this handmade thimble. He makes a perfect addition to anyone's thimble collection.
Umeboshi
This fuchsia pink and black fused dichroic glass jewelry set includes a rectangular pendant and dangle earrings. The brilliant metallic orchid pink dichroic glass is layered on top of a shiny black glass base.
The pendant has a dichroic glass rod fused to the top that catches the light and creates a lens effect and sparkle. The pendant is mounted on a silver plated bail. There is a lot of pretty bling in this jewelry set!
The rectangular dangle earrings are mounted on sterling silver lever back ear wires that will not slip out of your ears.
Lady Green Eyes Jewelry
If you are a lover of pink than this necklace is for you. Imagine feeling these luscious agate and Swarovski gemstones against your skin, could it get any better than the feeling of the cool smooth stone you ask; oh yes it most definitely can, not only is the sense of touch delighted by this necklace but the visual appeal of these gorgeous gemstones will appease the utmost of your senses.
Holly Knitter Creation
Nothing will be more magnificent, in a bathroom or kitchen, than the cleaning power of this pink magnolia blossom picture cloth. The cloth is hand knit in an all cotton yarn, measures approximately 10 inches by 11 inches, and is a design by Lisa V. and Allison Barrett (knitwitsheaven). If you pair this cloth with a pretty soap, from one of our Etsy artisans, it would make an awesome gift.
Sew Amazin
Medallions Dog Bandana | SewAmazin
Pink with White Flower Medallions Collar Slipcover-style Dog Bandana | SewAmazin
Pink with White Flower Medallions Collar Slipcover Dog Bandana | SewAmazin
Buttonhole opening for tags and leash loop, collar slipcover bandana
Sweet, but not too cute, this pretty pink dog bandana is perfect for Spring, Summer, Valentine's Day or any occasion! Handmade of cotton fabric printed with a geometric flower medallion pattern that resembles chrysanthemums or daisies in white on a pink background.
Kevs Krafts
All women love shoes right? You cannot go wrong with this gift for that women that has everything with this high heel shoes Christmas ornament.. I even have several different styles of these for their tree decorations..
This women's high heel shoes Christmas ornament was cut out by hand ( handmade ) from 1/8 birch plywood on a scroll saw. This high heels ornament features two different styles of shoe's inside of a hexagon shape
RSS Designs In Fiber
Cotton Flower Scarf - Filet Crochet Design - Pink Flowers with Crochet Web - RSS Designs In Fiber Hand-Crocheted this Womens Floral Scarf!
Handmade 100% Cotton Lace is Great for Warmer times - Spring, Summer, Fall!
-- 70 Inches Long - 10 Inches Wide
Cover Girl Beads
Etched opaque light pastel pink glass handmade lampwork beads with a matte bead finish.
Feminine beads hand made using light pastel pink glass. They are delicate looking and would be great for wedding jewelry, bridesmaids, proms, or other fashionable earrings, bracelets and charms. These soft pink beads have a frosted matte glass bead finish.
Quantity: 1 bead
Measurements: 10-11mm x 7mm
Mandrel size: 1/16
Hole size approximately 2mm
Butterfly In The Attic Photography
Photograph titled "Bubble Gum Moon". Colorized for a bright bubble gum pink hue. An wonderful piece of wall art for your teen or college student. Would look stunning in their dorm room. Arrange in groups of 4 with my other colors for even bigger statement.