Welcome to the Pacific Postcards Team Meet and Greet. We have a great team that had start simply as an
Etsy Team
but has branched out into
G+
,
Facebook
,
Twitter
and
Pinterest
. We would love for you to join are team and help promote New Artistically designed or reproduced postcards, collecting vintage and antique postcards, creating digital art, and anything to do with ephemera and vintage imagery.
First I would like to introduce myself, Colleen (Captain) and Frances (Leader) of the team:
"First a brief little introduction: I grew up a Midwest farm girl from Wisconsin but through a series of moments of self discovery I have since moved to California and live the city life in the Palm Springs area. I live in a lovely contemporary home where my husband and I have designed a small but very beautiful Japanese Garden.
Unfortunately, though, the contemporary look does not blend with my passion for vintage and antique Victorian froufrou. So I have created for myself a virtual world with my shops. I welcome you to my attic filled with all the treasures found and creations made especially for you..." ~Colleen Cornelius
"

I create mixed media, collage, folk art, religious icons, jewelry with a twist, paintings & digital art. Frida Kahlo has long been my muse and some of my art is inspired by her colorful life and paintings. I also enjoy dressing up in costume for any occasion but especially for Day of the Dead, Dia de los Muertos celebrations and of course as Frida.
Hunting for treasures at flea markets, thrift stores and antique shops is also a favorite past time and I often incorporate these objects into my art..." ~Frances Perea
***************************************************
"Hello,my name is Dodi and I am a single mom with two wonderful children. I am originally from NJ and now reside in Florida.I attended The Art Institute of Boston in the 70s. I recently have had some health issues so have had to look for creative ways to pay for my bills. I have enjoyed creating and selling on Etsy, as well as buying too! Thanks for stopping by and please convo me with any requests or questions! Enjoy and have a creative day!" ~ Dodi
**************************************************
"ImpalaPrints: Specialised and Vintage Prints
Hi Etsy !, I'm Steve I set up ImpalaPrints in October 2013 as a vehicle for my creative side, I've always enjoyed working with my hands, at that time I found my work (computer based) was sapping that creativity. ImpalaPrints however has become much more than somewhere to sell prints and vintage items it embodies my passion for prints and artwork as well as vintage items.
Please also visit my Blog
www.Impalaprints.com
Homemade Maps.
ImpalaPrints is also an exciting forum in which to share my Hand drawn Map designs with the world. If you would like a quick look at them please follow this link:
www.etsy.com/uk/shop/ImpalaPrints
The sensory experience of suddenly being confronted by a map and maybe following its flowing course into deep cut ravines or following a straight highway over a salt pan is an exciting one. Maps lines and symbols are generic in there factuality but in interpretation our mind conjures up an image so wonderfully unique and inspiring.
Maps
Maps are the perfect way of exploring the landscapes around us and are often works of art themselves giving a far clearer image of the topological landscape than a photo ever could. My aim is to give life to unwanted maps, upcycle them to make new artistic items, putting maps into places they were never meant to be.
DOWN TO BUSINESS
Why Should You Use ImpalaPrints?
• We offer personalized and individual items you will not find anywhere else, we pride ourselves in being unique and inspiring!
• Our service offers an individual touch, we believe in community offering a strong productive relationship with customers.
• We have an environmental friendly mind-set; any waste from producing your product is recycled or reused in creative ways.
• We are a motivated small trader so your custom is allowing us to fund future art projects!
Back to Shop Front:
www.etsy.com/uk/shop/ImpalaPrints
" ~ Steven
***************************************************
"I enjoy art, fashion, and everything vintage :)" ~ Youth123
***************************************************
"Relic Eclectic features vintage magazine prints, print advertisements, articles, magazines, and miscellaneous paper ephemera that make great wall art and collectibles." ~Joseph
***************************************************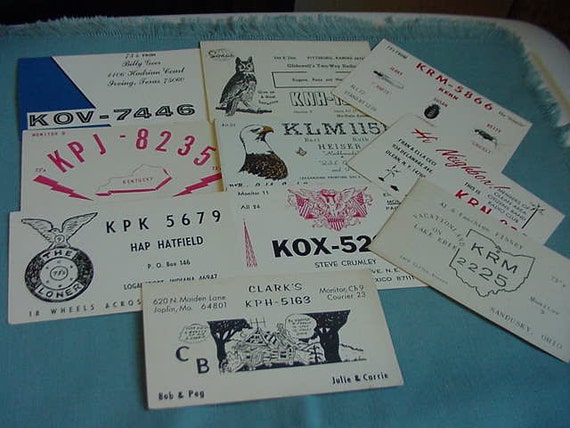 10 Vintage CB Radio Postcards, Call Numbers, Kentucky, Indiana, Texas, Ohio, Michigan, New York, New Mexico, Collectibles, Ephemera
"My husband and I have been married for 39 years. We have 2 wonderful sons & 4 great grandchildren & I am their Granni Gert. I work as an Assistant Librarian in our 2 grade schools and love auctions, estate sales & thrift shops.
I have been selling on another site for over 10 years and this is another venue for me, since I love buying Vintage Patterns & Sewing Notions. You can check my feedback (gerties) on eBay.
ALL OF MY ITEMS ARE PRE-OWNED. I PURCHASE THEM AT AUCTIONS, ESTATE SALES OR THRIFT SHOPS. I WILL TRY TO DESCRIBE THEM AS ACCURATELY AS I CAN, BUT LOTS OF MY ITEMS ARE VINTAGE AND MAY HAVE FLAWS DUE TO AGE, SO PLEASE CONSIDER THAT WHEN BUYING." ~GranniGert
***************************************************
"I'm a former journalist turned part-time artist and small business owner. I love art and antiques and have a passion for both. What makes my day is finding an old item with a unique story.
I'm always shopping, always creating and always looking to do new things. "~Monica
**************************************************
Welcome to the Pacific Postcards Team!
**************************************************
"Hello everyone! And thanks for coming! My name is Olena. I'm 33 years old. I was born in Soviet times and now I live in Ukraine. My friends and relatives still have many things from that period. Signs of the time have made them unique - with their own stories. Hope you will find this part of history interesting. So please visit my shop and choose your favorite item.
If you are interested you can also visit my main Etsy store (felted handmade things):
www.etsy.com/shop/SunshineFelt
"~Olena