Mother's Day is just around the corner and with
Blue Expressions' Countdown to Mother's Day
posts you can easily find a gift for mom.
I also want to remind everyone of my fabulous
Mother's Day Giveaway
going on right Now!
Enter Here
Today's picks are Mother's Day Gifts in shades of Coffee and Cerulean. I hope you L<3VE them.
Natural Agate Geode Slice Red Black Banding
Natural Agate Geode Slice Red Black Banding. UNDRILLED
Flat on back. High polish both sides. Same pattern both sides. Make a pendant, Add a glue-on bail!
Size: 2.89" × 2.6"
Thickness: 3mm
Handmade Stained Glass Double Pinwheel Appalachian Quilt Square Pattern with Mixed Opalescent and Stipple Glasses
Add interest to your window with this 6.5 inch stained glass quilt square! The double pinwheel is a traditional Appalachian quilt pattern that is quite fascinating, with interlocking twisting squares. This stained glass panel is richly caramel colored with earthy mottled browns, gold streaked with reds and soft minty green. The glass in this piece is a lovely combination of Youghiogheny and Bullseye glass. The combo is absolutely stunning and the subtle colors and textures create a beautiful contrast as the colored pieces pinwheel around the square. There is a crystal clear beveled square of glass in the center.
Blue Topaz & Alabaster Swarovski Crystal Earrings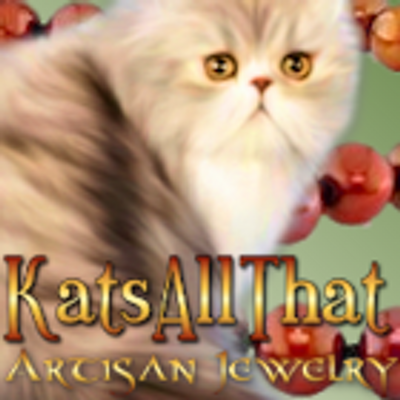 Each of these earrings consist of (9) 2.5 mm Alabaster Swarovski Crystals; and a Blue Topaz Drop Swarovski Crystal; Silver heishi Flower Spacer; they are attached by Sterling Silver wire wrapping The hooks are Sterling Silver
KatsAllThat
Green Verdigris Peace Pendant with Green Turquoise Chain Necklace OOAK
Give "Peace" a chance with this fun BOHO hammered brass pendant and chain necklace. The Zola pendant is a rustic beaten brass that has been engraved with the work peace in a live cursive design. The pendant was then washed with a green verdigris finish to add a subtle aged appeal. On each side of the pendant I opted to add a little fun by putting a Preciosa celsian crystal round charm. On the opposite side I added an adorable small, caramel tassel. Both the crystal charm and tassel will add a bit of gentle movement to the necklace. The pendant was then attached to elongated bar chain also by Zola. The chain links are 16mm each and are turquoise green with brass wrapped around the sides. For the closure I elected to use an antique gold lobster claw clasp by TierraCast. TierraCast products are only produced in the United States with a high reputation for the quality of their plated jewelry findings.
Farming Themed Wall Hanging Clock Handmade From Birch And Walnut Plywood By KevsKrafts,
If you or someone you or someone you know is a farmer then this is the perfect gift to get for yourself or that special farmer you know.
This farming themed clock was created from six different scenes originally from Christmas ornament designs..
This was all cut by hand ( Handmade ) from 1/8 inch Birch plywood using a scroll saw. A 1/4 inch Walnut plywood backer was glued to the Birch for a beautiful contrast. A Quartz clock motor was installed with a metal hanger for ease of hanging on the wall ( see photo of back )
1957 Chevrolet Tri-Five Bel Air Hot Rod Custom Car Spun Polyester Square Throw Pillow
1957! Elvis Presley appeared on The Ed Sullivan show for the final time, and the first Frisbee flew through the skies as Wham-O ler 'er rip.
General Motors was busy too; they were producing a series of cars that would surprise even them. The Tri-Five group 55-57 grabbed the attention of every lover of speed. Easily customized and highly coveted, the 1957 Bel Air is iconic and has a cult following.
This beautiful machine was sitting in the hot, Florida sun one car show and its brilliant colors made you put on your shades.
Antique Copper Heart Lady's Wrist Watch | Topaz Glass Wrist Band Round Face Women's Watch | Lady Green Eyes Jewelry
Elegant antiqued copper watch featuring dark topaz picasso Czech glass window beads.
Look no further for the perfect watch to wear with all of your outfits; this handmade watch band is sumptuous and ready to wear. It features Czech glass table cut window beads 8x12mm rectangle -dark topaz / picasso (artistic edging on each bead is why they are called picasso)
Tiny dark red spacer beads with fine black lines on them have been used for the spacer beads between the Czech glass beads.
Textured copper hearts adorn each side of the watchband. Antiqued copper T-bar toggle clasp secure and connect the watchband. I have used silver wire protectors; these protect the movement of the band against the toggle and the watch face and add to the longevity of the watch band.
The watch face is antiqued copper circular shape and there is a fine rope design running all around the edge of the face. The face has a white background with black numbers.
This watch is a joy to wear and very comfortable.
Paws and Bones Blue Dog Bandana, scrunchie bandana
Handmade of cotton fabric printed with doggie paw prints in red, classic blue and brown and white bones on a light blue background.
This fun dog bandana can be worn all year round for any occasion.
This listing is for one Scrunchie Bandana in size MEDIUM: 6 inch drop x 14 inch neck
Bohemian Necklace, Balance Word Necklace, Boho Leather Necklace, Inspirational Word Bohemian Jewelry, Leather Jewelry, Tibetan Bead, Tribal
The word "balance" is the inspirational pendant on this boho leather necklace with Greek ceramic beads, a hand-carved Tibetan bone bead, pewter spacer beads, and medium-brown deerskin lace leather. The pendant is roughly 1 1/2 inches in length. It is impressed with the word "balance" and has a color combination of blue with brown lettering.
The Greek ceramic beads are Mykonos pieces and come in two different shapes: tube and washer. The tubes are bone and deep brown in color and the washers are turquoise and olive green. The bone bead is from Nepal, and was carved by Tibetan refugees there. It is decorated with the ancient "evil eye" protector symbol, and so looks very much like a talisman. I bought it in a Tibetan-run dharma shop in Newport, RI. The pewter beads are daisy spacers and add a nice shine and metallic glint to the necklace.
Tree Tapestry - Fiber Art Tapestry - Table Top Decor or Small Tapestry Wall Hanging - Handmade Nature Landscape Art Crochet - Tree and Bird
Tree and Bird Landscape - Fiber Art Tapestry Crochet - Designed and Hand-Crocheted by RSS Designs In Fiber
This Small Tree Tapestry 7 3/8 Inches High by 6 1/2 Inches Wide could be either Table Top Decor - or a Tapestry Wall Hanging - or Framed for a Table or Wall.
Tapestry Crochet is a technique where you do crochet stitches in different colors to create a design or picture. In this case, RSS Designs In Fiber drew the picture - created a Chart for Crocheting it and used 5 different colors of Thread to make this.
Etched Light Blue Lampwork Bead Handmade Sea Glass Fine Silver 052efs
Etched transparent light blue handmade lampwork beads with fine silver and frosted like sea glass beads.
These blue beads are hand made using transparent light blue glass. They have been wrapped in .999 fine silver. These romantic beads have a soft matte sea glass bead finish.
Quantity: 1 bead
Measurements: 10-11mm x 7mm
Mandrel size: 1/16
Hole size approximately 2mm
Red Rust Brown Tiger Eye Gemstone Chunky Bracelet Small Medium Wrist
The tiger eye gemstones in this bracelet have glorious shades of reddish rust and dark brown. The chunky style bracelet is handmade with a combination of large round ovals and smaller round stones. Bracelet fastens easily with a copper plated toggle clasp. The bracelet is a size small-medium suitable for a wrist approximately 6 inches or no larger than 6.5 inches.
The Singing Beader made this bracelet using two strands of beading wire. The 6mm and 4mm tiger eye gemstones are clustered together between the larger 25mm x 18mm oval stones. This created a unique design. The tiger eye gemstones are lovely, with a smooth glossy finish, with no large pits or dings in the stones. This is a one of a kind bracelet, with only one for sale. I can make it larger or smaller per your request. Contact me at "contact seller" to verify if I still have extra stones available.
Closeup of Blossoming Shagbark Tree High Sun Photograph by Colleen 16x24 Fine Art Photography Bring the Outdoors In Zen Home Decor Interior
"Closeup of Blossoming Shagbark Tree in High Sun" This photograph is naturally bright and cheery with the tiny raspberry pink blossoms against the crystal jacaranda blue sky. This photograph would bring zen to any room. Balance life by bringing some of the outdoors inside.
Clip on Earrings Dangle Earrings Gift for Her Silver Earrings Gift for Women Boho Earrings Bohemian Jewelry Birthday Gift Unique Jewelry
Unique jewelry like these pretty clip on earrings make a wonderful gift for her! These dangle earrings are made with wooden circles and petite silver butterfly charms. The silver earrings are approximately 2 inches long. If you need a nice gift for women, these Boho earrings fit the ticket! These lovely earrings are connected to Tierra Cast clip backs that are very comfortable to wear due to the soft rubber inserts. The earrings are very light weight so that will only add to the comfort of wearing them. See photo #5 for a size comparison.
Classic Chevy True Blue
"Classic Chevy True Blue" Is a photograph of a vintage classic Chevy in Robbins egg blue. A backdrop of mountains sets off the scene.
Taken in Cabazon California 2017
Dreamy Sepia Image of Swans in Park "Ribe Aaparti" - Danish Woman watching Swans in Park - Sienna - Early 1900s Vintage Postcard
Special Features: Letter is written in Danish
Place/Subject/Quote: Lady dressed in period clothing watching Swans swimming in a beautiful pond in the park. Done in Sienne very beautiful. Front - "Ribe Aaparti" not sure of translation tried looking for it but didn't come up
Southwest Turquoise Magnesite Necklace, Handmade Chunky Jewelry Gift
Created with the spirit of the huge Desert Southwest sky in mind, the BLUE SKY, WHITE CLOUDS handmade necklace is a perfect gift for the woman who adores wearing statement jewelry. The one of a kind necklace features flower blossom shaped magnesite discs permanently dyed a rich turquoise blue color. Natural magnesite rondelles finish that are micro faceted for subtle, eye catching glimmer finish the back of the unique necklace. Artisan crafted Thai Hill Tribes fine silver flower beads separate the two sets of gemstones, with sterling silver beads separating each gemstone and a hammered sterling hook clasp completes the necklace. Perfect jewelry to wear with your office garb or favorite faded blue jeans, the BLUE SKY, WHITE CLOUDS necklace was carefully designed and handmade by Catherine of Shadow Dog Designs